Today we headed down just past Nerja, where we parked the car just off the highway, to explore the trails and jagged cliffs of the Acantilados de Maro.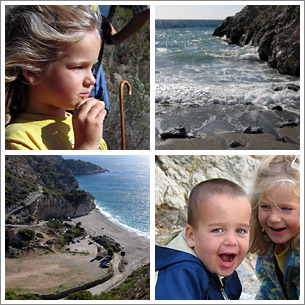 We parked the car at the pull-off for the Playa del Cañuelo, and started down the steep downhill dirt roads towards the sea. After just several meters from the car, we detoured off to the left, and started walking a rolling path down towards the Playa de Cantarriján.
As we managed to repair the backpack, our little boy got a free ride again today, and daddy suffered. When we arrived to the playa de Cantarriján, I was good and tired, and very thankful to find a beach-side cafe serving some cafe-con-leche. As I drank my coffee, and looked around at the photos on the wall, I was kinda startled that many of the photos were of naked people. Turns out, the Cantarriján is a nudist beach, or "naturalist" beach, as the Spanish like to say.
Today, however, the wind and cool temperatures kept all but the most determined nudists at home, I guess. The beach was practically empty except for a few scuba divers getting thrown around in the rough water.
We had lunch just near the beach, and on the way back, our masochist leader Luis decided what we really needed to do (or what Matt really needed to do with a 15kg kid on his back), was march down the treacherous path to the rocky coastline. Somehow we made it down safely, and then hiked around to the Playa del Cañuelo, where we rested up before walking up the road back to the car. And man what a walk back it was — 30 minutes of almost vertical climbing. Ok, well it wasn't that bad, and I was in good company with my new buddy Julia, who likes my little boy, and speaks Spanish and German.
That's the report from this week!