Once again we ventured out with the Senderitos.com crowd for a weekend hike, to the beautiful "Montes de Málaga," about an hour's drive from Marbella.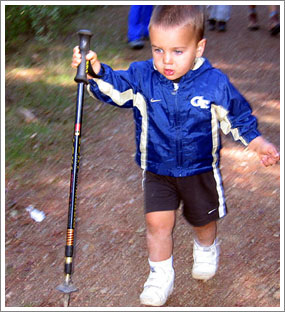 And what a beautiful October day it was, sunny and warm, with a just a crispy hint that winter's on the way.From downtown Málaga, the never ending ascent to the Montes de Málaga park reminded me that I'll be back here again early next year, for the annual "Reina" (Queen) early-season bicycle race up this very same peak. Anyway, we turned off at the top of the mountain, and parked about two kilometers down the dirt road, where we began the hike.
We hiked the wide, level trail, constantly looking out at the spectacular views of the Málaga/Granada area mountain ranges. Our daughter didn't have such a hard time this week, since she we joined by a friend, and spent most of the day figuring out how to keep a stuffed teddy bear entertained. My back was quite thankful this week, as our little boy decided he preferred to walk (rather than ride in the backpack.) Maybe it was the presence of his big sister's friend, or something.
Note to the regular readers and photo viewers (that's you, Mom): I do wash these clothes from week to week.