Those closest to me know that I suffer from bag addiction — a condition characterized by a never-ending search for just the right bag, for just the right occasion. My latest fix arrived today in the mail (thanks, Mom!) — a Timbuk2 Euro Tote.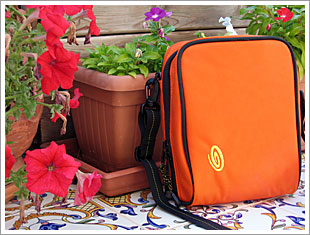 This is the bag (no, it's not a purse...) that will become my daily companion, and which will contain the stuff I like to have with me at all times:
Wallet
Treo (PDA/phone)
Keys
Sunglasses
iPod Shuffle (and earbuds)
USB memory stick (sometimes I get amnesia)
Pen
Moleskin 9x14cm notebook
Kleenexes
Including all the above, there's still enough room for the following stuff that I'll occasionally take along:
Book (small book).
Canon PowerShot S500 digital camera, and spare battery.
A diaper or two.
So far, after one day's use, I've got the feeling me and the Euro Tote are going to get along just fine. The only thing I don't like, is that inside it's got a soft-lined phone pocket. I wish bag makers wouldn't include those, because it's a waste of space for those with phones that don't fit.