BEFORE NOW, THE CHOICES AVAILABLE to organizers of trail running events for the timing of their races were:
Expensive — Contracting a professional chip-timing service, the cost of which can easily exceed 1,000€.
Painful — Manually recording times, using a stopwatch and paper, or typing into an Excel spreadsheet on a laptop.
An exciting new option exists that costs a fraction of a professional service, is convenient and easy to use, yet provides high quality, reliable results.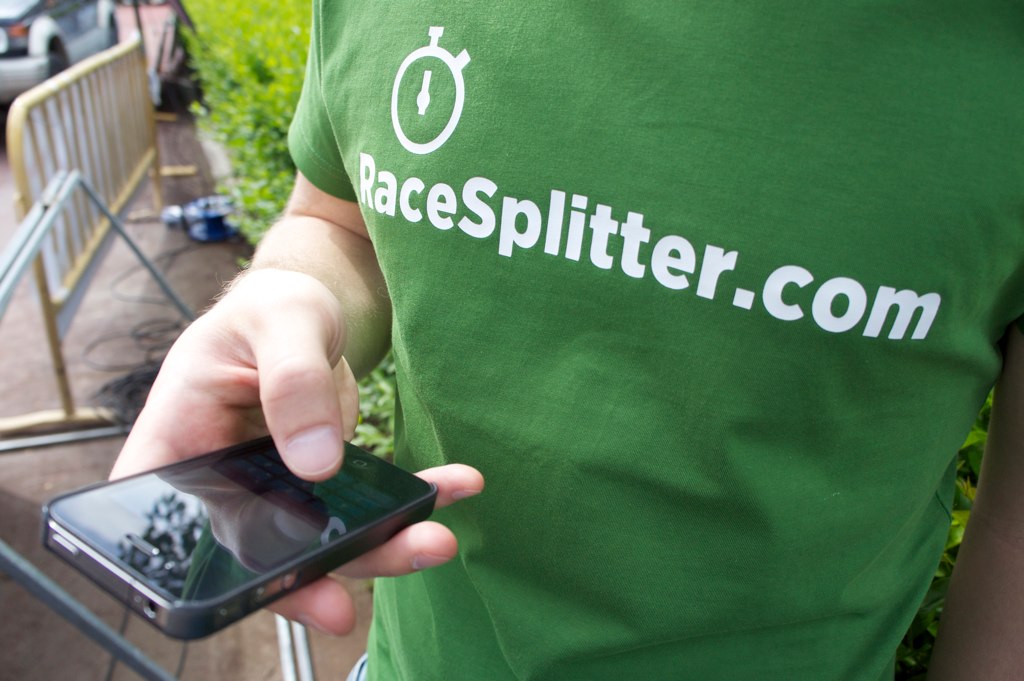 INTRODUCING RACESPLITTER
RaceSplitter is a new race timing application for the iPhone, iPad and iPod Touch, available for purchase in the iTunes Store for a one-time cost of 20€.
RaceSplitter includes everything an organizer needs for DIY ("Do it yourself") race timing:
Build the race — Easily build a race online (race configuration and start list) at RaceSplitter.com.
Import the race — Import the race into RaceSplitter on the iPhone (or iPad, or iPod Touch). Last minute changes? No problem; updates can be made in seconds.
Time the race — As racers cross the finish line, type their bib numbers into RaceSplitter, and record their times.
Publish Results — After the race is over, tap a button in RaceSplitter to instantly publish results to RaceSplitter.com.
Share & Print — Online published results are immediately available to print and/or share with everyone.
BENEFITS TO THE ORGANIZER
UNLIMITED INTERMEDIATE TIMES
Once a race is built at RaceSplitter.com, anyone given the web link to the race can download it to their own copy of RaceSplitter.
Organizers of trail running events love this feature, as it allows them to have several people on the course, recording intermediate times of racers at interesting locations — for example, as they pass some mountain peak.
Once the race is over, each person timing the event with RaceSplitter taps a button to instantly publish their results to RaceSplitter.com — which combines them all into a single set.
Viewing these combined results, it's possible to see the evolution of each participant's position throughout the race!
Achieving such functionality with chip timing systems is logistically difficult, and very expensive. With RaceSplitter, all you need is a few iPhones or iPads.
IS IT REALLY THAT EASY?
Absolutely. All a race organizer needs to conduct their own timing is a copy of RaceSplitter (20€) and someone with an iPhone, iPad or iPod Touch. That's it. Really.
CASE STUDIES
RaceSplitter has been used extensively in trail running events. The following case studies include published results and blog articles (if you want to read more).
Case 1 — Copa de España en Sierra Elvira.
RaceSplitter was used as the backup timing system at the Sierra Elvira Spanish Cup trail race. Four times were recorded by three people with iPhones — as the racers arrived at the highest peak (twice during the event), as they passed the last water station, and as they finished the race. Results were published here:
Case 2 — INFINITA Ultra Trail.
The company organizing the INFINITA Ultra Trail event in Cortes de la Frontera chose RaceSplitter for the timing of their complex, three race event.
After the race, event organizer Ramiro Rejón commented, "Once they see how easy to use, yet complete, this solution is, every trail running organizer in the world will use RaceSplitter. Guaranteed!"
Case3 — Carrera Montaña Sierra de Ubrique y Benaocaz.
RaceSplitter was used at the primary timing system at the first mountain race in the Sierra de Ubrique and Benaocaz, Spain. At this event, one person with an iPad took an intermediate time at the 11km point, and another person with an iPhone took the finishing times.
Case 4 — Carrera Popular de San Pedro
Since it requires typing in bib numbers as racers pass (or finish), RaceSplitter wasn't designed for races in which very large groups of participants finish together. However, the cost savings are so compelling that even organizers these races are now choosing RaceSplitter.
They channel finishing racers into a single file line, where they record their bib numbers with RaceSplitter — thereby getting the finish order exactly right, while trading off the recording of an approximate finish time.
This was the case for the recent 7km "Carrera de las Aguas" road race in Istán, Spain.
FOR MORE INFORMATION
If you organize races — professionally, or just as a hobby — you really need to check out RaceSplitter! For more information, visit:
…or send an email to Matt Henderson at [email protected]