Some goodies arrive in the mail today from the good'ol US of A, and I'm excited to show them to you.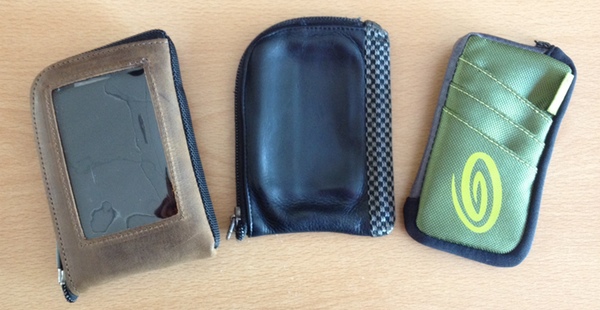 WaterField Designs iPhone Wallet
I've been using a trusty leather WaterField Designs zippered wallet for ages (the black one, shown above in the middle). Inside, I've always kept about eight to 10 cards, and a bit of cash.
What I noticed, though, over the past few years is a tendency to also keep my iPhone inside the wallet as well. This presented one problem: The iPhone fits so tightly, that when I pull it out, any cash bills I have inside tend to come out with it.
Apparently WaterField owner, Gary WaterField, had the same problem, and was in the fortunate position to do something about it — creating the WaterField iPhone Wallet (pictured above on the left).
Just slightly bigger than its predecessor, the new wallet solves the pulling-the-cash-out problem by including a felt divider that sits between the iPhone and the cash.
Additionally, the wallet has a clear plastic siding that allows the face of the iPhone to be viewed and manipulated without removal.
All in all, very nice upgrade!
The Timbuk2 Mission Cycling Wallet
When out cycling, I've always carried my WaterField wallet (with iPhone inside) in the back pocket of my jersey. This wasn't ideal:
One tends to sweat a lot in this hot Spanish climate, and I hated the thought of getting my nice leather wallet all icky. And wrapping it in bag or cover was clunky.
Second, pulling the phone out presented a couple problems, including the cash falling out, and potentially dropping it with sweaty hands.
So I was also excited to see the new Timbuk2 Mission Cycling Wallet (above, right) arrive in the mail today.
The wallet is made for cycling, and seems to be mostly sweat-proof. It tightly holds the iPhone inside (even with my incase Snap hard-shell cover attached). Addtionally, like the new WaterField wallet, it has a clear plastic siding that allows you to use the phone without removing it. That's going to be handy! (Except, of course, when I want to take photos. Which, as it happens, is a lot!)
Finally, it's got three slots on the outside, providing just enough capacity to carry my ID card, a debit card, and a bit of cash.