Last Saturday morning, I headed up to Ronda, to join 7,000 other participants in the 2012 edition of the famous 101km de Ronda — organized by the La Legion Española military organization. (And let me assure you, nobody other than an army could handle the logistics of such an undertaking!) The event involves mountain biking (the sane ones) or running (the insane ones) over 101 kilometers of mountainous trails, through the beautiful Serrania de Ronda.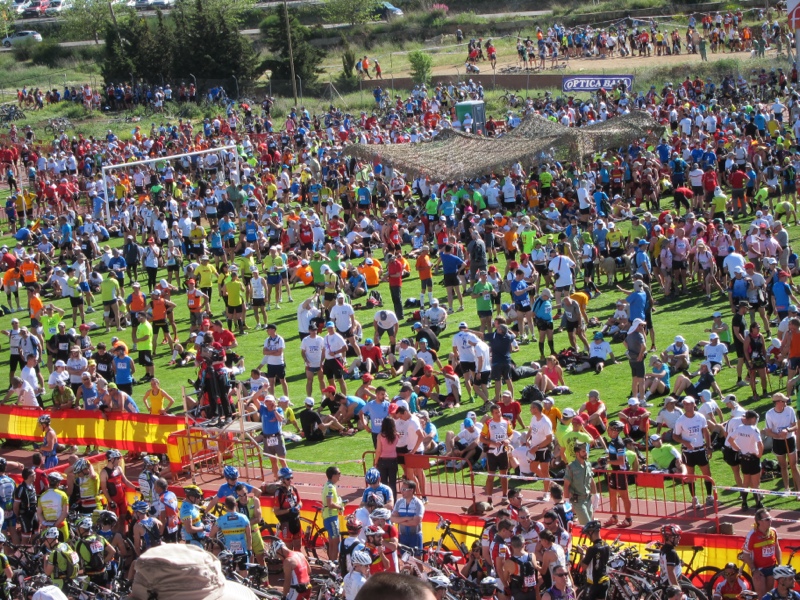 A bad start.
Last year, I arrived at the Ronda football stadium 15 minutes before the 11am start, and by a sheer stroke of luck was able to move up to the center of the bunch, to meet up with my Marbella cycling buddies. This year, I arrived two hours early, so we could all enter the football stadium together.
Very. Bad. Idea.
Whereas last year it was rainy and cold, this year it was hot. I mean, really hot. Standing with my bike, packed in the middle of 3,500 other cyclist, waiting for the race to start, and already suffering from the heat at 9:30 in the morning, I had a feeling it wasn't going to be a great day.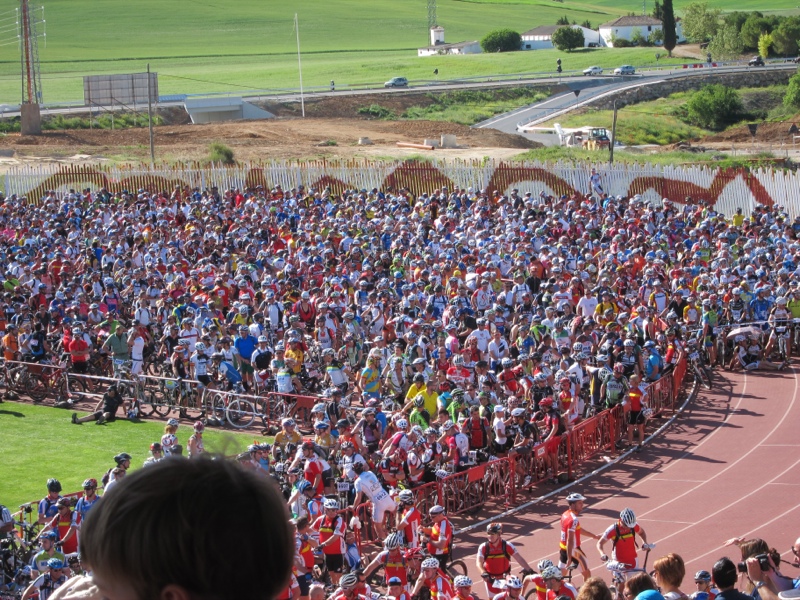 A mild winter didn't prepare us for this heat.
Having had a relatively mild winter this year, all of my training took place in cool temperatures. This was literally the very first hot day of the year, and I was told the temperatures reached over 38 degrees Celcius (100 degrees Fahrenheit)!
Not even 30 kilometers into the ride, and I started getting cramps in my left calf. And it got worse throughout the day. Cramps in both calves. Cramps in my inner thigh. Cramps in my achilles heel area. And, finally, cramps in my triceps. My triceps!
Carnage everywhere.
Every time I passed a shady spot, I'd see three or four cyclists laying on the ground. I saw people at the rest stations with IV drips in their arms. And with only 8 kilometers to go, I saw a military vehicle absolutely full of people quitting and being transported back. Having suffered through 92 km, they couldn't make the final 8.
Purgatory.
The last 30 kilometers of the race — known affectionately as "Purgatory" — are the worst. After passing the military cuartel checkpoint, you have to climb a brutal trail up to the "Ermita de Montejaque", including about a kilometer so steep it's pratically impossible to stay on the bike. Traditionally, from that point, it's a 20 km rolling ride back to Ronda, where the final "Cuesta del Cachondeo" awaits — a short, but vertical climb up the cliff over which the city of Ronda was built.
This year, however, they had a little surprise for us; they replaced that 20 km rolling section with another climb — an awfully steep section of bumpy, twisty trails that were impossible to bike. Everybody — everybody! — was off their bike walking.
At some point on that climb, I looked down through the sweaty fog at my Garmin GPS, and saw 20 km remaining, and thought, "OMG, there is no way I can finish this race. I just can't do this for another 20 km!". But then I heard somebody tell their friend we only had 13 km to go. What!?!
Then it hit me — my GPS was still on "auto-pause" mode, whereby it stops the clock anytime I'm not moving. Obviously, the times during the day when I'd been walking the bike, the GPS had stopped!
OK, 13km to go is much better than 20, so I soldiered on.
Mac! Mac!
When I arrived to the "Cuesta del Cachondeo", I decided to try to ride up it, as walking immediate triggered more cramping in my legs. But then about halfway up, I hear, "Mac! Mac!" I look up, and see that it's my buddy Paco Rosado (who calls me Mac), walking his bike about two zig-zags up the rocky path. When I caught up, I decided to walk with him, but it was impossible. Cramps. Cramps. Cramps. So I remounted the bike, and rode the rest of the way up, and waited for him at the top.
We rode into the finish line together, very happy to have finished, and very happy the ordeal was over!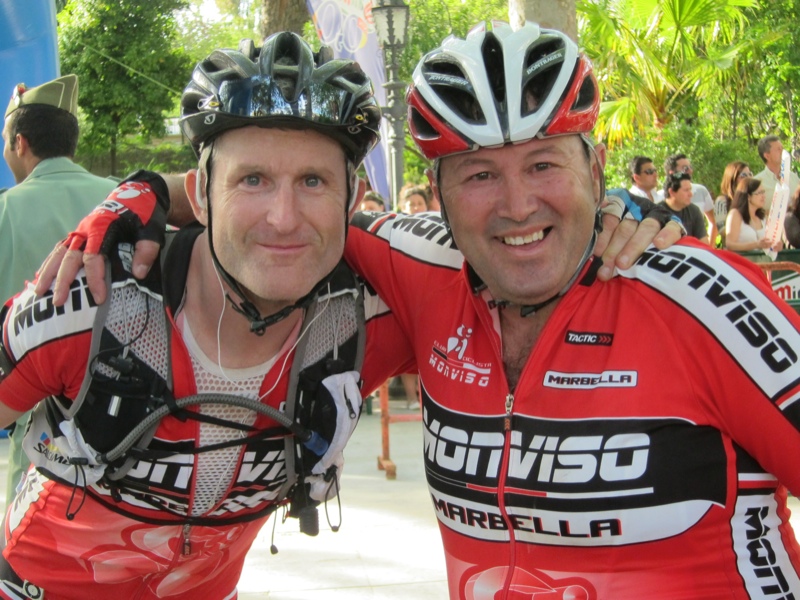 Only after I finished, did I begin to realize how hard the day had generally been on everybody. The straps of my helmet were absolutely caked with sald. One of my other buddies apparently lost consciousness for 15 minutes and had to be attended by ambulance. The medical tent was full of dehydrated bikers and walkers with IVs in their arms. And there was an abundance of stories of cramps and suffering.
But am I looking forward to next year? I can't wait! That's the strange thing about the 101 km de Ronda.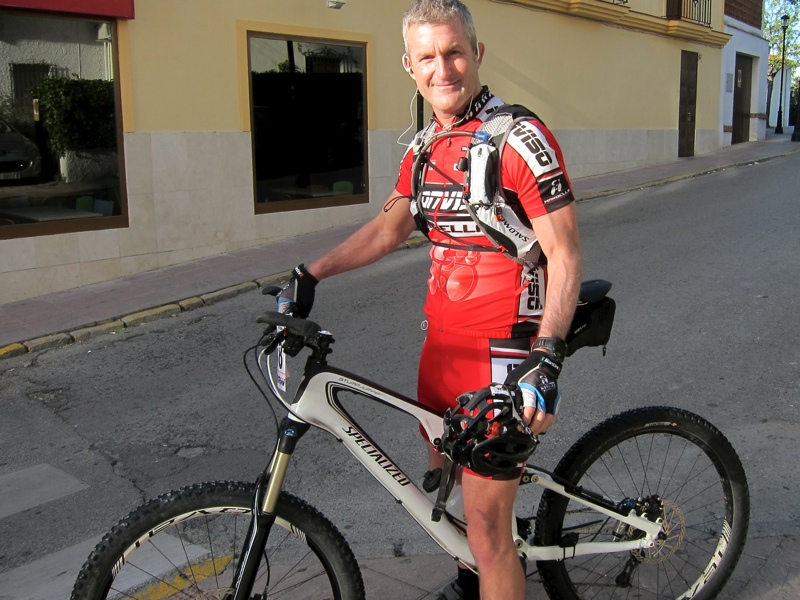 El Peseta!
In the good-news column, I was happy to learn that local cyclist Jose "El Peseta" Marquez, having returned to cycling after some years away won the bike race, breaking the course record. (What a year to break the record. Increible!)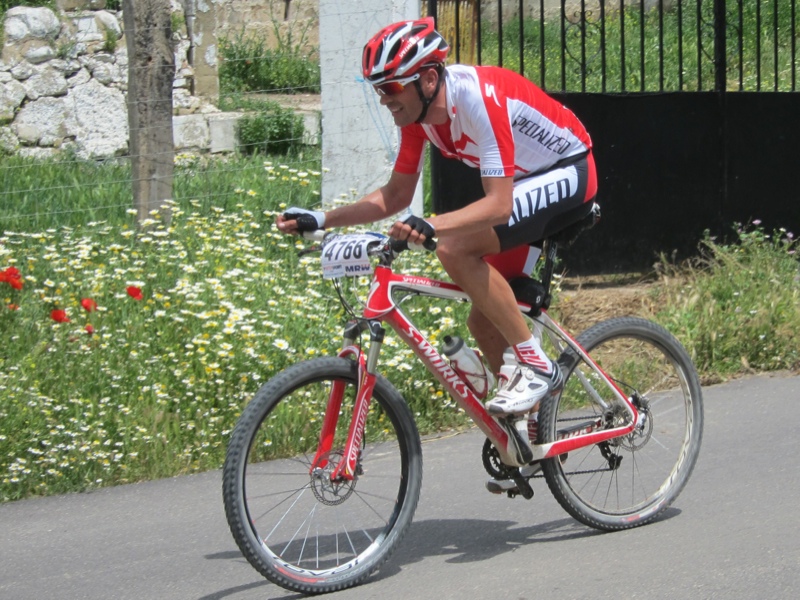 The Wife.
Special thanks to the wife, who supported me as always. Normally she's one of the insane ones who runs the 101km. But this year she skipped the event, getting ready for a 215 km event coming up in June.