For more than a decade, I've been accumulating music and curating playlists in iTunes, all of which has physically been located on the SSD of my MacBook Air. And for the past couple of years, I've been sharing that library with other devices—computers, Apple TV, iOS devices—via iTunes Match.
A few months ago, a friend mentioned that I could save space on my MacBook Air by deleting all the physical media files from iTunes, and just letting the library source live in iTunes Match.
So I opened iTunes, selected all my music, and hit delete. iTunes asked:
Do you want to move these files to the trash? All your music will still be available in iTunes Match.
Sounds perfect, and so I confirmed the delete. At least initially all seemed fine; my playlists and music appeared to remain in iTunes, but with a cloud icon next to them, indicating that when listened to, they would stream from iCloud, instead of playing from local files.
I can't really remember when I last listened to iTunes music, but today when trying to on my iPhone, I noticed that all my playlists had disappeared. I then went to my MacBook Air, and noticed that not only had all my playlists disappeared from there too, but all my music as well!
After some googling, I tried restoring an old "iTunes Library.iti" file from the "Previous iTunes Library" folder. The last one was dated in September (and today is November 16).
After restoring that file and opening iTunes, I once again saw all my playlists and all my old music, but each song had an exclamation mark next to it, indicating it wasn't to be found. Trying to play any of those songs, iTunes would ask me to try to locate the original file.
I noticed iTunes Match was disabled, and upon enabling it, iTunes reported, "You now have 59 songs available in iTunes Match" (there should be more than 10,000) and my local iTunes library was reduced accordingly. Even that number, 59, doesn't make sense, since I've purchased far more than that!
So sometime between September and now, something has happened that completely wiped out iTunes Match's understanding of the composition of my library. I can only recall two events that might be related:
Upgrading to iOS 8 and Yosemite
Enabling Family Sharing
In an attempt to recover from this, I restored 80GB of iTunes music from CrashPlan—which, by the way, has proven to be among the most valuable software I own—to my Mac mini server at home. After restoring that music to iTunes on the mini, and running iTunes Match, it reported about 9,000 songs available in iCloud.
Good, I seem to have gotten my music back. But bad, none of my playlists are present on the mini.
I then went to the MacBook Air, and updated iTunes Match there as well, after which it also reported having access to about 9,000 songs. Unfortunately, however, here's what its library looked like: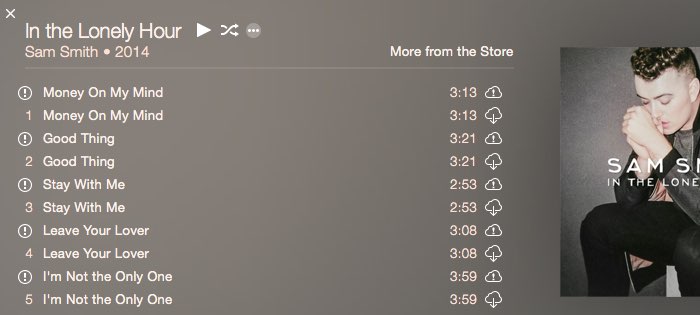 Every song had a missing duplicate. And the worst part is that all my meta data like ratings, play count and membership in playlists are associated with those missing songs.
After some head-scratching, I finally figured out a solution. Here's what I did:
Disabled iTunes Match on my MacBook Air
Copied my 80GB of music from the mini to the MacBook Air
Deleted all the music from iTunes on the mini, and confirmed to both move the files to the trash and delete the music from iCloud.
Launch iTunes on the MacBook Air, and the 80GB of music to its library
Enable iTunes Match on the MacBook Air
After doing this, the MacBook Air once again contained all my music and the contents of my playlists correctly referenced the physical files on the disk.
At some point, I may try once again to delete the physical media from the MacBook Air, but if I do, I'll definitely keep the external USB hard drive handy that was used to transfer the 80GB of music from the mini to the MBA, in case I have to go through this recovery process again. Hopefully that won't happen, though, as I'm presuming that whatever caused the deletion of the music from iCloud was just an anomaly.