Since starting to listen to podcasts a few years ago, I've always used the Instacast app. Recently, though, I decided to check out Overcast, by Marco Arment. Having used Overcast for about a week now, I've collected some observations and initial impressions.
(I emailed these to Marco yesterday, but haven't heard back. Given that he's never responded to any email from me, though, I'm not really expecting one…)
Adding a single episode
Podcasting apps behave like RSS readers, in that you "subscribe" to shows, and then wait for newly published episodes to appear in the app for listening. That's important, of course, but I wish they could additionally behave like "Read Later" apps like Pocket and Instapaper. I'll often see reference to a particular podcast episode in a blog article, and wish that I could send that single episode to my podcasting app, without having to subscribe to the show itself.
Instacast can't do that, and I was hoping Overcast might—since it's by the same original author as Instapaper. Unfortunately, though, unless I've overlooked something, it doesn't seem possible.
Progress indication
I like to get a sense of my listening progress from the episodes list, and in this regard, I prefer the visual indicator of Instacast (below right) over the textual indicator of Overcast (below left). At a glance, I can see that I'm about 75% of the way through Episode 282 of the MMA Hour in Instacast, but have no idea of the relative progress in Overcast.

Mark as Listened
In Instacast, when you want to discard an episode, you swipe-right to mark it as listened. This is a gesture that is familiar to me from RSS readers. I find myself frequently trying to do the same in Overcast, but unfortunately that interaction isn't supported. Instead, you swipe-left to "delete" the episode.
Download over cellular
Like Instacast, Overcast supports a setting to disable the download of episodes over cellular data connections. Unfortunately, though, Overcast doesn't allow you to force override that setting on an episode-by-episode basis.
As I was driving to work this morning, a new episode of the MMA Hour suddenly appeared, and I wish I could have downloaded that particular episode over my cellular data connection and start listening to it. But the only way to achieve that in Overcast (as far as I could discover) was to modify the global download settings, download the episode, and then hopefully remember to re-disabled that global setting to prevent downloading all future episodes over cellular.
Listening effects
The episode screen in Overcast includes an Effects setting popup, where you can enable and disable the "Smart Speed" and "Voice Boost" features, and set the playback speed. I find this popup to be confusing.
At the bottom of the popup is a toggle, to specify whether for this show we always use the "Last Effects" or "These Effects". So what am I looking at right now—the last effects or these effects? And what does "Last Effects" even mean?—"Last" with respect to what?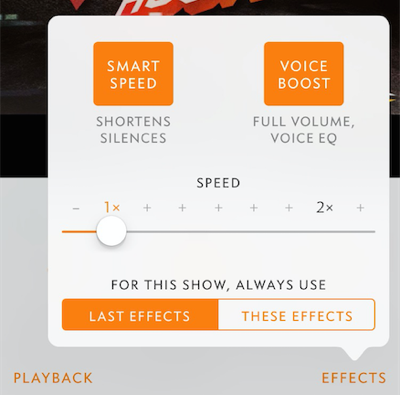 Smart Speed & Voice Boost
The paid version of Overcast offers a couple of clever features called "Smart Speed" and "Voice Boost".
Smart Speed shortens the silences in the podcast, thereby shortening the overall play time of each episode. Since pauses can transmit meaning in verbal communications, I was concerned how this feature would affect the listening experience. But so far so good; it seems really well done!
Voice Boost claims to enhance the listening experience in environments like cars. Since my car happens to be pretty much the only place where I listen to podcasts, and since I've experienced frustration in this area with Instacast, I was keen on seeing how this feature works. From my initial experience, it does appreciably improve the listening experience in that environment!
Will I keep it?
So will I stick with Overcast or go back to Instacast? For me, the jury's still out, but I'm leaning towards sticking with Overcast for the Smart Speed and Voice Boost features.