My company develops an iPhone application called RaceSplitter for the timing of sporting events. It's a well made product, that until now has received almost exclusively exceptional reviews. And that's important to us, because user reviews strongly influence the purchasing decision of potential customers.
Today, a new review came in from iTunes — giving the product "one star", i.e. essentially saying it couldn't be any worse. Let's take a look at user WEDALLARD's review of RaceSplitter (in an iTunes view that also shows us his other product reviews).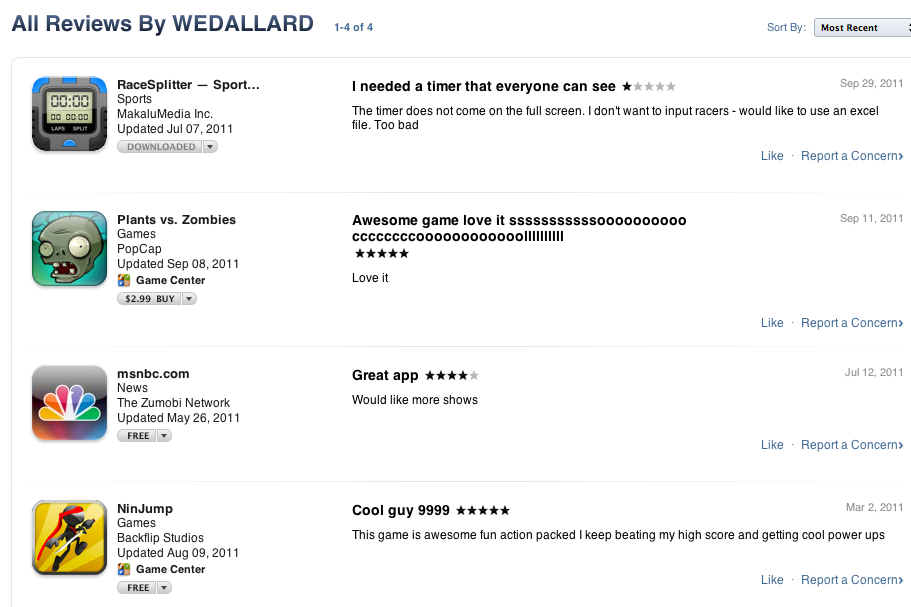 If I could figure out how to contact this person, here's what I'd have to say:
I needed a timer that everyone can see. The timer does not come on the full screen. I can only presume you're talking about some sort of projection system at the event? Where in our product description or website have we advertise that the product "comes on the full screen"? This comment is equivalent to buying a Honda Civic, and giving it a one-star, because, "I actually needed a bus; I can't fit 32 people inside at once."
I don't want to input racers. Would like to use an excel file. We have never claimed that races in RaceSplitter can be built from Excel spreadsheets. (That would be a cumbersome thing to do in an iPhone app.) But here's the thing — we actually support doing just that from our website! If you visit RaceSplitter.com — and this is clearly stated in the product's tutorial section — you can create a race from Excel data that can be imported into RaceSplitter.
So, thank you, WEDALLARD, wherever you are, for giving our product the worst possible review — and possibly influencing future potential customers — because it doesn't do something it never claimed to, and because of your own oversight of a feature we actually do support. And thanks for submitting that review without even having contacted us (we're also known for excellent, fast customer support).
Looking at his other reviews, I'm inclined to think this is just some kid, but this reflects something I feel is fundamentally broken in the iTunes system — there's no way to have such reviews removed, and there's no way for the product owner to follow up with the reviewer.