Mac OS X 10.10.3 introduced version 1.0 of Photos.app, Apple's iCloud Photo Library enabled replacement for iPhoto and Aperture. Over the past couple of weeks, having finally uploaded my 120GB of photos and videos into iCloud Photo Library, I've had the opportunity to begin exploring the new application, and much of that time has been spent in "Faces"—the area of the application that allows you to associate photos to people. I previously documented some sync issues related to faces, and in today's article I'll highlight some face management issues.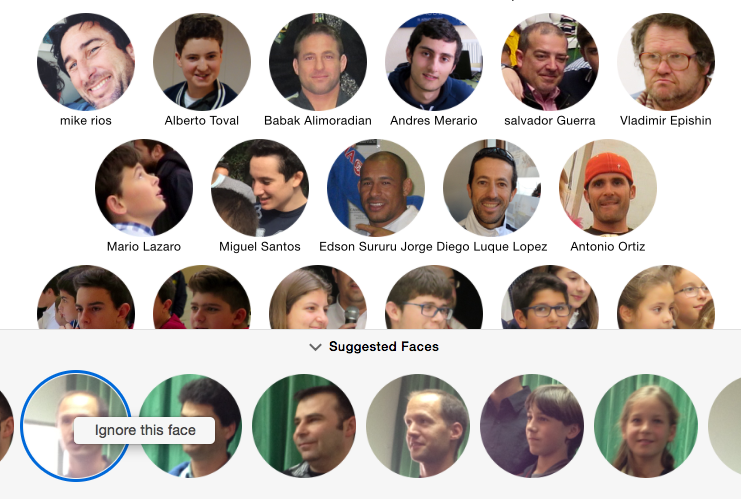 The Faces section of the Photos app is separated into two regions:
The tall region at the top displays the named faces of people you've already tagged. Double-clicking one of these faces drops you into a chronological listing of all the instances of photos you've tagged of that person. Control-clicking on any instance of the face in that area allows you to set that particular instance as the key face for that person (used in the main Faces screen) or remove the image altogether (in case you accidentally mis-assigned someone to this face.)
The short region at the bottom displays a row of "Suggested Faces" that Photos has auto-detected. Double-clicking any of these faces triggers a search/input field to assign a name to that particular face. Control-clicking on any of these faces allows you to instruct Photos to "ignore" the face, removing it from the Suggested Face row.
In terms of face management in this first release of Photos, I've observed two major shortcomings:
In my Photos app, "Suggested Faces" currently contains far more images I want to ignore, than images I want to tag. Unfortunately, Photos does not allow you to "ignore" multiple faces at once, hence requiring you to control-click-ignore faces one by one by one.
Since ignoring faces has become unworkable, my next approach was to scroll along horizontally, finding and adding those faces I do want to tag. But what's equally frustrating, is that when I do tag a face, the Suggested Faces scroll snaps back to the start of the row—thereby losing my scroll position! The inability to ignore multiple faces at once, combined with the loss of my scroll position when looking for faces I do want to tag have become show-stoppers in my use of "Suggested Faces".
Apart from those major issues, I've noticed a couple of lesser issues:
There's no way to filter the upper region of faces. If you want to change the key photo for a particular face, or correct a face assignment mistake, you have to either visually hunt for the face in question or use the app's general search mechanism to find the person, and then make the edit in an environment different than that optimized for face management.
When viewing an album of photos, I haven't found a way to enter the Faces management mode, scoped to just those photos. This was possible in Aperture. So within the context of an album, you have to manually identify and name each face.
When associating a Suggested Face to a known existing person, Photos will often display several other photos it believes contains the same face, allowing you to add (or exclude) those in batch. I expected to find this feature available in the screen you're shown when double-clicking on an existing person in the upper region of the Faces area, but alas, it isn't. Currently, Photos knows of several photos containing my son, but I can't confirm those until I find him being proposed for management in the Suggested Faces list.
I had hoped that setting the key-image of a person associated with one of my Contacts, to update the image used for that person in Contacts, but that doesn't seem to happen.
If I work in the Faces management area for an extended period of time, I begin notice the program slowing down. For example, I begin to experience noticeable delays when typing into the search/input field, having double-clicked a face. So it appears there's some room for performance improvement in the app as well.
One of the photos the app identified in Suggested Faces was the cover of the Steve Jobs biography. For a moment, I found myself surprised that Photos didn't auto-recognize that particular face!
As someone currently building a version 1.0 of a new product, I can deeply sympathize with the need to prioritize features, and release something closer to an MVP. In this respect, I think Apple has done an astounding job with the initial release of Photos. That said, at least in the area of Faces management, there are some important deficiencies that need addressing, and I look forward to those receiving some attention from Apple in future updates.