Here in Spain, I can pay for parking with my Smarthphone. With my Smarthphone.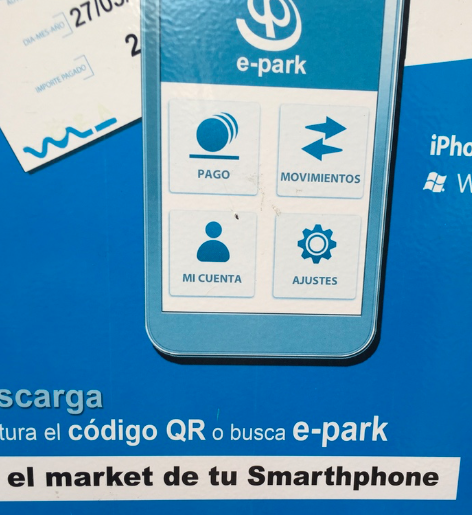 Trying to pay for my parking this way actually turned out to be an awful, and ultimately unsuccessful experience.
Parking in the blue zones in Marbella requires the purchase of a parking ticket. Since I rarely seem to have coins on me when I need them, I was happy to discover the ticket boxes sporting a new advert claiming to let me pay the convenient and electronic way!
It was an advert from e-park.es, offering the option of paying via their iPhone app. I tried to download the app, but alas, it's only available in the Spanish App Store (and my phone is connected to the US store).
As an alternative, you can pay at their website via their mobile browser interface. When I typed in my national ID number, however, the system wouldn't let me proceed, claiming that the NIE format was "invalid". e-park.com didn't program their systems to accept all NIE formats in Spain, including those given to foreigners.
So I tried to find some contact information at the e-park.es website, and… there is none! There is no advertised way to contact the Ingenieria Vial S.L. company that is responsible for this system — not surprising, I guess, for a company who cares so little as to even spell-check their flagship ads!
In the end, it was back to fishing around for some coins. Welcome to the modern age! (Maybe Ingenieria Vial S.L. will stumble across this article while googling themselves in the future…)