Today I received an email from Skype, informing me that my Skype Number was about to expire, and that I didn't have enough "credits" to process the renewal: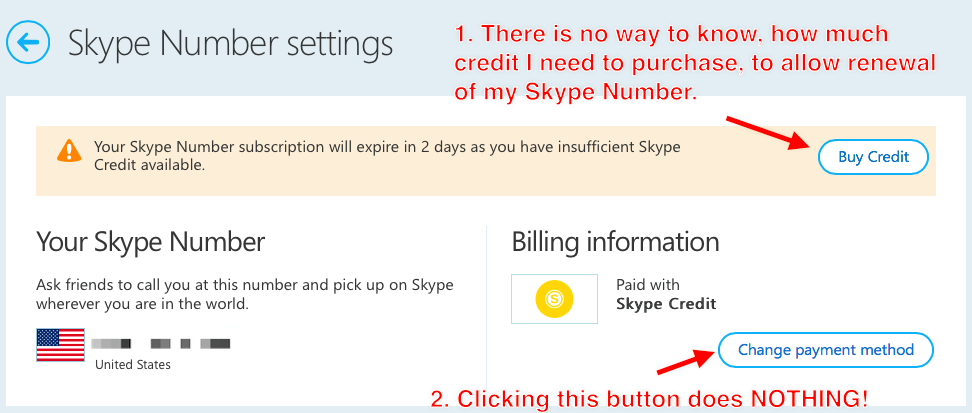 My first inclination was change the payment method, but clicking that button in Safari did absolutely nothing.
Next, I tried to purchase some credits. Amazingly, the site doesn't tell you how many credits you need, so I tried purchasing $25, returned to the page, and it continued to report that I don't have enough credit. Same thing after another $10 purchase. And again after another $10 purchase!
When my account finally had $51 in credits I thought, "Jeez Louise! How much does one of these Skype numbers cost!?!"
At that point, tired of losing time, I thought I'd give Chrome a try, and see if the change-payment button issue was a browser incompatibility. Sure enough, it was, and I switched to credit card payment for the renewal.
Wanting to get my previous Skype-credit purchases refunded, I started a chat session with Skype Support, during which I was actually told that:
It's not possible to know how many credits are needed to renew a Skype Phone number
Even after purchasing enough credits to cover the renewal, the website will continue to report that you do NOT have enough credits.
She's going to report this to the developers, so they can "add that feature".
You really have to read the following transcript yourself to truly appreciate the insanity.
You are now chatting with 'Karen E':
Karen E: Hello! My name is Karen. Welcome to Skype Live Support! What can I help you with today?
Matt H: Hello, to understand the problem I'm having, please see this screenshot: http://d.pr/i/1beKy
Karen E: Hi there! I do apologize but I cannot see any screen shot here.
Matt H: Are you telling me, you are unable to use a web browser while we are talking? The link I sent is to a web page that contains an image
Karen E: Yes, I can use it, however, the screen shot you provided is blocked here in our end.
Karen E: But I can send you an email now and you can reply to it and attach the screen shot.
Matt H: Can you just try to open the link in your web browser?
Karen E: I already did that, but again, it is blocked.
Matt H: Ok, please sent the email.
Karen E: Sending it now. By the way, may I have your Skype name and email address?
Matt H: Before entering the chat, I was asked for my Skype name and email address. It seems sad that you don't have access to that information.
Karen E: I understand. However, since we have new process now, we do not see your account information now. That's why we need to get your Skype name and email address. We do apologize for the inconvenience.
Matt H: OK, you'll now sent the email? Can I attach the screenshot image to that email in reply?
Karen E: Yes, please. I already sent the email and you can reply to it now.
Matt H: OK, you should now have it. So here is the problem: When logging into Skype, I'm alerted to the fact that my Skype Number will expire in 2 days as I have insufficient Skype Credit. So my first question is: How much credit is needed? But guess what? -- There's no way to know how much credit is needed.
Karen E: As I can see here, your skype number is worth $24.00. You will not be informed on how much Skype credits you needed. This is because Skype credits has fixed amount. Do not worry, I will take note of this and will forward this to our developers.
Karen E: As I have also noticed on your screen shot, you mentioned that when you click on change payment method, nothing happens after. Does something pop up or did you get any error messages?
Matt H: Nothing happens. It's broken in Safari on the Mac. You would imagine it would be tested on such a common browser, but evidently not.
Karen E: Oh I understand. Do you have any browser? Can you try to change the payment method again using IE? This is for us to isolate the issue.
Matt H: Since the website doesn't inform the user how much credit is needed, I started purchasing credits, hoping to eventually see this screen update with a message like, "OK, you now have enough credit." Eventually, after two purchases, the website reported that my credit balance was $51 And this screen STILL reports I don't have enough credits. So I finally tried it on Chrome, and found that the Change Payment Method works And so I switched it to credit card.
Karen E: Oh okay, I understand.
Matt H: So now, I would like my purchases refunded, as I don't need $51 of credits.
Karen E: All right for your first concern, yes, you will not notified if you already have sufficient funds. For Skype number that's payment method is Skype credits, you just need to add credits on your account (make sure that it will cover the amount of your number) then your number will automatically renew within 24 hours.
Karen E: I am adding this now to the lists that I can forward to our developers. And for the browser, we really cannot assure that your browser will work, so if that happens we highly suggest to use different brower.
Karen E: I can process a refund for you. Do you have an order number for those Skype credits?
Matt H: There were three orders, for $25, $10 and $10
Karen E: Thank you very much, is that all? Let me refund this for you now.
Matt H: I still have a question: If you're going to tell the user that they don't have enough credits to renew their number, and you're not going tell them how many credits they need, then why doesn't this alert clear itself after they've purchased enough credits? You said my phone number needs $24, but the alert remained active even after I purchased $51 of credits.
Karen E: As mentioned, Skype credits has fixed amount. Meaning once you purchase it, it will show you the amount you purchased. No worries, I have already forwarded this to our developers, currently, Skype does not have the option to alert you once you have reached the amount of your number.
Matt H: What I'm saying is, once my credit balance was $51, why does the alert still say, "You don't have enough credits". If the balance on my account is $10,000 would it continue to report that I don't have enough credits?
Karen E: Yes, that is correct, that option is not available in Skype yet. But do not worry, we are already aware of this and our developers are working on this feature. We do apologize for this inconvenience.
Matt H: Ok, well, it will be really great when that feature is available, so that if I have enough credits on the account, the website will not report that I do NOT have enough credits. Please tell the developers I appreciate the effort for going the last mile to consider such subtle details.
Karen E: I do understand that. Thank you for raising this up. Hopefully, this feature will be added soon.
Matt H: I hope so, too. And thank you for your the help today.
Karen E: You are most welcome Matt :) It's been a pleasure assisting you today. I hope you continue to enjoy Skype. Have a great and safe day!