This article is about a frustrating experience with the WIRED Magazine iPad app, by Conde Nast.
Background
I have an active subscription to WIRED Magazine on the iPad, valid through July 2014. After a recent iOS update, I found that most of my subscribed magazines, including WIRED, were missing from the Newsstand app.
After re-downloading the WIRED app, I launched it and found myself looking at a "Store" screen full of issues available for purchase at $4.99. Same thing on the "Library" screen. What I should have seen were a bunch of "Download" buttons, not "Purchase" buttons. In other words, the app didn't recognize that I'm an active subscriber. (When I re-installed The Economist, for example, it did recognize that I'm a subscriber.)
So I began looking for a way to tell the app that I am a current subscriber.
The My Account Screen
The app has five sections: Library, Store, My Account, FAQ and Video.

I started by visiting the "My Account" area.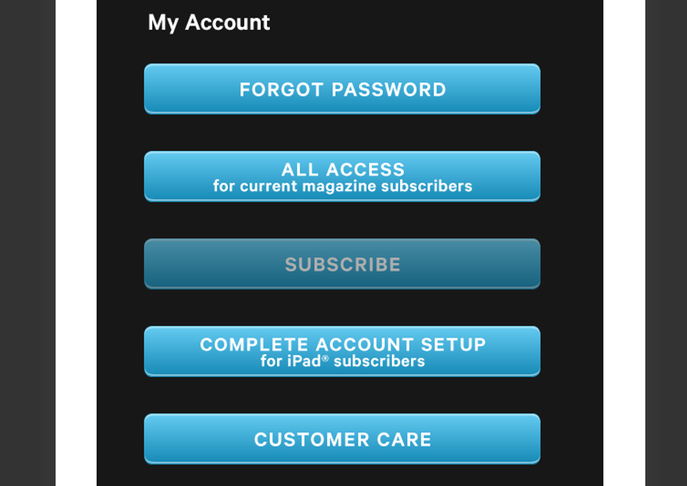 The "All Access" and "Complete Account Setup" would seem like candidates, but after poking around in those sections I discovered they are only relevant to print subscribers.
The FAQ Screen
Next it was off to the FAQ section. There, I discovered content that apparently hasn't been looked at in ages: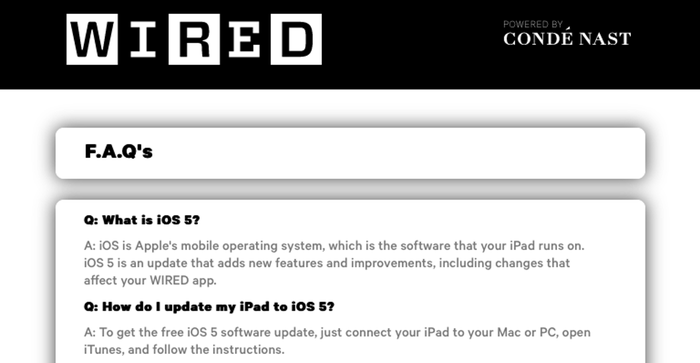 "What is iOS 5?", "How do I update to iOS 5?" Seriously, this from a magazine positioned to be on the cutting edge of technology? We're long past iOS 5, guys.
The Store Screen
So it's back to the Store screen. The current issue displayed two options — "Purchase for $4.99" or "Subscribe". I decided to tap the "Subscribe" button, and was asked to choose between a monthly subscription for $1.99 or a yearly subscription for $19.99. I tapped the yearly subscription option, expecting that when the app submitted the purchase request to Apple, it would be told that I'm already a subscriber.
Which is exactly what happened! Shortly after entering my App Store password, a message came back saying:
You are already subscribed to WIRED Magazine, through July 2014.
Great!
Except for one problem—all the magazine issues were still listed as purchasable, not downloadable. So even after confirming that I'm an active subscriber, the app still didn't update its state to reflect that.
The Library Screen
Noticing that I was still on the Store screen, I thought, "Oh, I'll bet the app updated its state on the Library screen." So I switched and … nothing; all the issues there were also listed as purchasable, not downloadable. Good grief. But then I noticed a "Sign In" link in the upper left corner, and thought, "Oh, maybe that's where it's done!"
But that wasn't it either. After some fumbling around, I discovered that's related to your WIRED website account, and unrelated to your app subscription.
Let's just try purchasing an issue...
Given that trying to subscribe to the magazine resulted in a confirmation of my active subscription, and running out of options at this point, I decided to just try purchasing an issue, hoping that that will also return a message like, "You're already subscribed; this download will be free."
So I tapped the "Purchase" button on the November issue and…got a confirmation that I've just spent $4.99. Heavy sigh.
For a moment I almost didn't believe it, but then got the Growl notification as Mail.app announced the incoming iTunes purchase receipt email.
Restore purchases
Unwilling to believe there's no way to tell this app that I'm subscribed, I finally noticed the gear icon in the upper right corner of the Library screen.
For whatever reason, I had previously discounted this as an option. I guess my subconscious just assumed that given the presence of a "Sign-in" service opposite this gear, that the gear section wouldn't contain account-related services.
But lo and behold, under the gear menu I found an option called, "Restore Purchases", which when tapped finally changed the state of the app to reflect my active subscription, allowing me to download issues without purchase.
Conclusion
Setting up a new device or restoring from a backup would seem to me common enough use cases, that apps like WIRED would, on the Store or Library screens, offer a message like, "Already subscribed? Click here to restore your subscription."
They do that for print subscribers—i.e. they have very prevalent messages under the "My Account" area communicating, "Already a print subscriber? Click here for iPad access."—so why not an equally-prevalent service for iPad-only subscribers?
I ended up making an unfortunate $4.99 purchase, and wasting a lot of time unnecessarily, due to what, in my opinion, is unthoughtful interaction design.
Epilogue: Support from iTunes
I emailed iTunes, explaining what happened and requesting a refund of the $4.99 purchase. Although they did grant a refund, their reply was almost as disappointing as the experience with WIRED.
First, they communicate appreciation for me having contacted them, and confirming an understanding that I've asked for assistance with an "accidental" in-app purchase. Then, they communicate how much pleasure it gives them to have the opportunity to help me and proceed to reference some knowledge-base articles explaining what in-app purchases are, and how to disable them in my apps—all of which suggests they didn't even bother trying to understand what actually happened.
Hi Matt, This is Glenn your iTunes Store Advisor and I appreciate your inquiry regarding our services today. I understand that you need assistance about an accidental in-app purchase on your iTunes Store account. I'll take care of your concern and it would be my pleasure assisting you to straighten this matter and I'm happy to help you with this issue I checked your account and it looks like the purchase was made within an iOS app. This is called an "In-App Purchase". For information on this type of purchase, read: iTunes Store: About In-App Purchases http://support.apple.com/kb/HT4009 I checked your account and it looks like the purchase was an auto-renewing subscription, made within an iOS app. To learn more about auto-renewing subscriptions, read: iTunes Store: Purchasing and managing auto-renewing subscriptions http://support.apple.com/kb/HT4098 I understand that this purchase was made accidentally. Within 10 business days, you'll see a credit posted to the payment method listed on the receipt. Please note that this refund is a one-time exception, as the iTunes Store Terms and Conditions state that all sales are final. To prevent more In-App Purchases, you can block them on any of your iOS devices. Follow these steps for each device: 1) Tap Settings on your device's home screen. 2) Tap General. 3) Tap Restrictions. 4) Tap Enable Restrictions and enter a passcode. This passcode will prevent restrictions from being disabled without your permission. 5) Scroll down to the Allowed Content section. Switch the In-App Purchases option to OFF. You may need to enter your passcode again. I hope I was able to assist you with this matter. Have a good day!. Sincerely, Glenn iTunes Store/Mac App Store Customer Support