Bank of America are making a change to their website so dramatic they need to continually remind me about it—starting six months in advance.
What kind of change could be so important? Are you sitting down? They are going to put the username and password on a single screen instead of two, and will drop the display of my "SiteKey" image.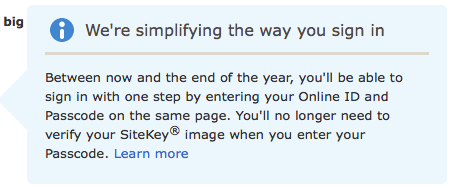 Of course I've created a new high-priority OmniFocus project called, "Get ready for the Bank America login change", and will soon fill it with all the actions needed to ensure I'm fully prepared when they finally flip the switch on this at the end of the year.
Thanks for the head's up, Bank of America; I'll be ready.